(image source)
In a span of just four days, news headlines in the US illustrated different aspects of white supremacy.  In one headline, we learned that the police officers who shot and killed Tamir Rice, a twelve year old, black child, as he played with a toy gun in a park in Cleveland, would face no charges in the young boy's death. In another series of headlines a short time later, we watched a lenient, even nonchalant governmental response to a group of white, armed, anti-government protesters as they stormed the Malheur National Wildlife Refuge in Oregon. Taken together, both highlight the importance of white property rights as a cornerstone in how white supremacy operates.
The juxtaposition of the events in Ohio and Oregon illustrate white supremacy in the United States. .
On one hand, the killing of a child playing in a public space, the lack of aid rendered as he lay dying, and the assumption that he was much older than his young twelve years was justified through deeply established tropes that criminalized Tamir Rice's black skin and that made him always already a suspect, even as a child.
On the other hand, Ammon Bundy and members of his white, anti-government militia, calling themselves "concerned citizens" while actively threatening to raise their arms against the federal government, are entitled to supply demands, press conferences, and a "wait and see" response by officials.
But the significance of recent events in Oregon extends beyond this obvious example of the differential treatment of racial groups by the state. We argue the events at the Oregon wildlife refuge are representative of what Arlo Kempf describes as a "colonial moment," one that bolsters white supremacy and violence against people of color, as well as the ongoing dispossession of Indigenous peoples in the U.S. settler state.
The concept of settler colonialism emphasizes the ongoing occupation and privatization of Indigenous territories and the systems of race necessary to sustain the displacement and marginalization of Indigenous peoples. From this perspective, colonization is not an event of the past, but rather an enduring process that continuously unfolds across the landscape. Colonial moments normalize white domination and the racial status quo by obscuring histories of racial violence and exploitation and by reinforcing largely unquestioned assumptions about white settler property ownership and entitlement to stolen lands.
For some, the Bundys – both Ammon and his father Cliven – have become folk heroes for their efforts to reclaim federally owned and regulated land and for resisting the overbearing, 'tyrannical' federal government. However, as the chairperson of the Burns Paiute Tribe, Charlotte Rodrique, has explicitly stated, the Paiute peoples had been living on these lands for thousands of years prior to the arrival of white settlers. Deep ironies abound as the militia members demand that the federal government return the land to ranchers, loggers, and miners after claiming the federal government had usurped their rights.
Though it's quite easy to dismiss the Bundys, their followers, and other white militias in the American West as a "radical fringe" group with a poor understanding of U.S. history, we believe that to do so would be ill informed. Not only is the Oregon standoff part of a much broader political, economic, and social movement rooted in individual private property rights and undergirded by white supremacy, the event – and popular reactions to it – sustain particular understandings of whiteness and land ownership that render invisible the displacement and exploitation of people of color that enabled white settlement and the acquisition of federal lands in this area in the first place.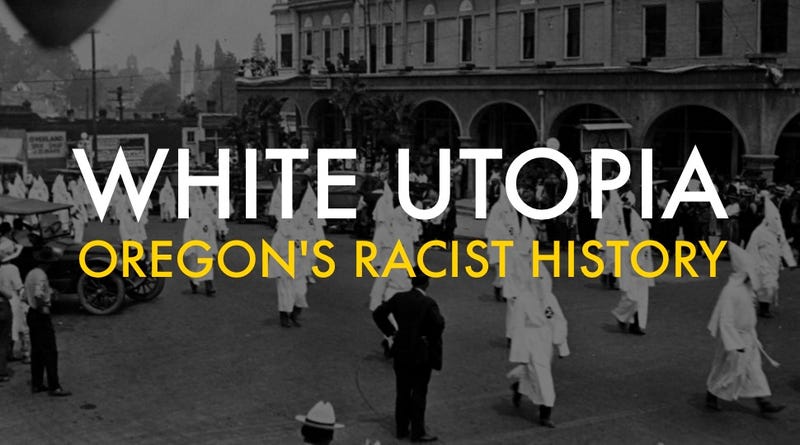 Though Oregon is popularly known as one of the whitest states in the nation and parodied for its left leaning politics and liberal views, less widely known is how the state's contemporary racial geography was forged through racist policies at a variety of scales (municipal, state, federal) that facilitated indigenous land appropriation, racial exclusion and marginalization, and labor exploitation. Through federal homestead policy and land acts that transferred lands appropriated from Indigenous peoples to individual white settlers, and aided by Indigenous dispossession and genocide, Whites assumed ownership of the area's most productive land and built their local infrastructure and economy with Japanese, Chinese, and Mexican immigrant labor.
The Oregon Donation Land At (1850), for example, allowed free land only to whites. In Oregon, 10,513,945 acres (17 percent of total lands) were homesteaded following the 1862 Homesteading Act and its subsequent iterations. Racial exclusion laws passed in 1849 and 1854 prevented blacks from living in Oregon Territory. These exclusions were written into the state's first constitution in 1859, which made Oregon the only free state in the Union with a black exclusion clause Furthermore, when Oregon statehood was declared, Chinese and Japanese immigrants were prevented from owning land or holding mining claims. Oregon's 1901 anti-miscegenation statute nullified and criminalized marriage between whites and people of color, making the offense punishable by imprisonment.
As is clear, discourses about land rights in the American West continue to obscure and naturalize the ongoing displacements of Native Peoples and policies of racial subjugation and exclusion that produced the racial and class makeup and patterns of land ownership in contemporary Oregon. As a colonial moment, the occupation of the Malheur Wildlife Refuge shores up this racial framework. Bundy's sense of history and his "right" to claim land on behalf of "the people" demonstrates the continued centrality of settler colonialism and white supremacy in the United States.
Thinking about the killing of Tamir Rice together with the Oregon standoff reveals the contours of white supremacy and the ways in which social condition of whiteness – what it means to be white in America – is so deeply entwined histories of violence, marginalization, and dispossession that have rendered some lives more valuable than others.
White men making claim to their "private property" rights are "patriots", while black children playing in public spaces are reasonable threats to life and property.
~ This post was written by Anne Bonds and Joshua Inwood.  Bonds is and Assistant Professor of Geography and Urban Studies at the University of Wisconsin-Milwaukee. Her research focuses on gendered, raced, and classed inequality and the politics of economic development. Inwood is an Associate Professor of Geography and Africana Studies at the University of Tennessee. His research focuses on race, racism and the continuing significance of white supremacy for understanding the US.