(Image source)
Researchers like Christopher Uggen and Jeff Manza have documented the political impact of felony disenfranchisement, the ways in which voting restrictions strip away citizenship, civic engagement, and political participation from Black Americans.  But in our own decade-long research program in Midwestern county jails, we found that even where felony disenfranchisement laws had not stripped the incarcerated of their right to vote, most weren't aware they still had the right to vote.
So, we decided to get the word out to those who eligible voters who might also be incarcerated. Earlier this year, our research team partnered with a local community organizing agency  to register citizens while they were incarcerated. As a result, we successfully enrolled 14% of minimum and medium security inmates in two county jails in the Kansas City area.
Ahead of registration deadlines for primary elections last June, we spent 5 days registering voters at the two jails. In late September, we returned and spent another 3 days registering voters ahead of the general election. Our process varied. For instance, in June, people signed up beforehand and were brought to us in a room in the jail in small groups. In September we were instead escorted to common areas within individual housing units, where we were announced by a corrections officer and were then allowed to mingle with inmates and complete registration materials. We don't know how many people in the facilities were already registered or the number of those who were ineligible. However, we were given access to all units at the minimum and medium security levels and were allowed to speak with any interested inmate, except those in medical isolation or those held in solitary confinement.
PEOPLE IN MOST STATES CAN VOTE AFTER A FELONY
The good news is that in most states people can vote after completion of a felony conviction, though many don't realize it. For example, Anthony Papa who completed his sentence for a conviction under the Rockefeller drug laws, recalls:
"I remember very clearly when I was released from prison and tried to vote and I was turned away.  I felt like I was second class citizen because I was powerless to help fix my south Bronx neighborhood that was deteriorating around me. I had to wait five years until I was off of parole in order to vote. When I was allowed to vote I felt complete and was fully welcomed back by society as a citizen."
Aggressive sentencing for drug possession and sales over the past three decades has meant that felony disenfranchisement affects 6.1 million U.S. citizens, like Anthony Papa.
Still, many inmates still perceived their voting rights lost forever, even when that wasn't true. It's simply not true in Kansas and Missouri and 16 other states where voting rights are restored automatically following completion of a felony sentence. And the right to vote is not lost at all in Missouri and Kansas for those with convictions at less than felony level.  Unfortunately, misperceptions on this point are widespread, making the disenfranchisement of incarcerated persons in our states real even where it is not true.
Many of the inmates with whom we spoke at the jails believed they were ineligible to vote. Indeed, during the first round of registration in June, at one of the facilities we learned that some had been given wrong information even as they were signing up for our event by corrections officers who themselves misunderstood the laws. Lack of awareness about voter eligibility may run several layers deep. Our registration efforts thus meant signing up voters and educating citizens—inmates and jail staff alike—about the fact that in Kansas and Missouri past felony records do not affect voter eligibility. Most of the people we spoke didn't realize that only four states in the U.S. bar voting after completion of a felony sentence. People in these states who have been impacted by policies are working to spread the word about what it means to permanently disenfranchise past felons.
DISENFRANCHISEMENT HITS COMMUNITIES OF COLOR HARDEST
The burden of disenfranchisement falls particularly heavily on Black and Latino citizens. One out of three Black Americans has lost the right to vote due to these laws, compared to 1 out of 56 non-Black voters. Loss of voting rights, however temporarily, is one of the many collateral consequences of policing and sentencing practices that disproportionately target Blacks in the U.S., acting in some sense as a new approach to racial gerrymandering.
In addition to felony disenfranchisement, Blacks face other barriers to full political participation. Missouri voters, for instance, will decide in November on a measure to amend the Missouri constitution to allow the legislature to pass laws requiring state-issued photo identification at polling places. Photo-ID voting laws, which generally require some form of state-issued (e.g., driver's license, passport, state-issued ID) identification are in place in 32 states. Opponents of photo ID laws point to evidence that state-issued ID requirements to vote would effectively disenfranchise many older and low-income voters, with many arguing that the impacts of new voter restrictions are likely to be felt disproportionately by Black and Latino/a citizens. Courts recently ruling on similar laws in North Carolina and Texas have agreed with this implication, striking down voter ID requirements as racially discriminating in their effect.
Given the de facto disenfranchisement that occurs when citizens are misinformed about their rights, and the equally real threat to voter rights posed by current ballot measures, we were moved to reach out to potential voters in perhaps the most unlikely of settings, local jails. These efforts involved not only registering voters in advance of the primary and general elections, they included coordinating the delivery of absentee ballots for those who knew they'd still be locked up during both elections. We would underscore that our involvement was about registration, engagement, participation—not about specifically whom or what to vote for. However, to the extent that enlarging and enhancing the franchise is itself a partisan act these days, we plead guilty. In this, we were abetted by jail administrators and staff, who also recognized the importance of affirming all citizens in the exercise of their rights. We were further aided by an agency with deep roots in activism around racial justice and voting rights in our community.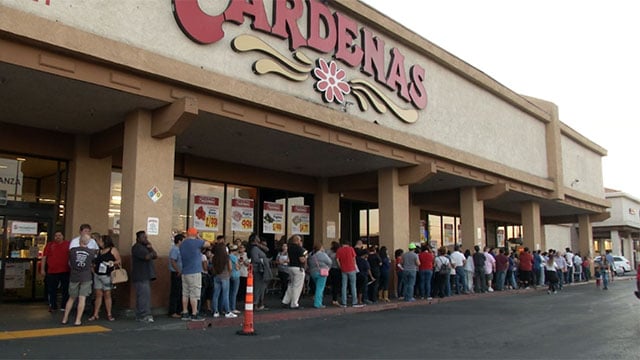 (Early voters wait in long lines in Clark County, Nevada: Image source)
Racially motivated efforts to suppress the vote in this country are diverse in form and dismayingly frequent. Some efforts, like photo-ID measures, seem obvious; others, like the silence and misinformation around felony disenfranchisement, only slightly less so. For those who believe as we do in the importance of a broad franchise to a racially inclusive, democratic—indeed, a just—system, any efforts to restrict citizen access to the ballot must be met with action. We took an opportunity to use our familiarity with the jails to try to make a difference. We don't know how many of those we registered will vote, although we requested and were granted contact information from most and will be evaluating outcomes post-election. But our purpose in sharing the experience here is to hopefully prompt others to look at their own networks, look for local openings for organizing and activism—for surely even the smallest, most piecemeal acts of justice-making can be fit to Dr. King's prophetic arc.
~ This blog post was co-written by Megha Ramaswamy and Amanda Emerson.  Megha Ramaswamy is an Associate Professor at University of Kansas School of Medicine. She is trained as a sociologist and works as an applied public health researcher in county jails, designing, implementing and evaluating public health programming. Read more about her team's work here and follow her on Twitter @Vaginographer.
Amanda Emerson is a PhD candidate in the School of Nursing at University of Missouri – Kansas City. Her research interests lie in creative, community-focused public health interventions to reduce health disparity. Amanda also has a PhD in English, her earlier scholarship focusing on the myth of equality in 18th– and 19th-century American literature.