The shooting at a historic black church in Charleston, South Carolina, on Wednesday has shaken the country, leaving many reflecting on the state of race relations in the United States.
Nine people, including Rev. Clementa Pinckney, the church's pastor and a South Carolina state senator, were shot to death by accused gunman Dylann Storm Roof at Emanuel African Methodist Episcopal Church. Authorities have called the shooting a hate crime.
But how does one explain such a crime from a scientific perspective? What could lead someone to commit a racially motivated hate crime? What is racism — and how can we as a society overcome it?
HuffPost Science posed those questions and others on Thursday to Dr. R. L'Heureux Lewis-McCoy, an associate professor of sociology at The City College of New York (CUNY) and author of the book Inequality in the Promised Land.
I would define racism as a system of social advantages and disadvantages doled out based upon group membership, particularly what we have socially defined as races. Among sociologists, we also talk about a newer form of racism known as "colorblind racism" (Eduardo Bonilla-Silva pioneered this work) that emerged after the 1960s, where the outward expression of racial animus and explicit discriminatory laws have been silenced or removed, but unfair racial advantages or disadvantages are still doled out, despite few people admitting to being devout racists.
From my framework, it is possible for someone to be working in service of racism by endorsing white supremacist ideologies. For example, Dylann Roof in South Carolina opened fire in Mother Emanuel Church and subscribed to beliefs about the superiority of whites and the "natural" order of things. Alternatively, someone who is black can also endorse negative beliefs about their racial siblings despite being a member of that group. A common example of this would be a police officer who is black but utilizes racial profiling in her or his everyday police work.
How would you then describe the ways in which our society is set up to perpetuate racism?
Our society is ripe with messages about the meaning and limits of race. In contemporary America, the immigration debate is often framed around Latinos from Central America, when in fact immigrants come from a wide range of locations and vary greatly by hue. In domestic policy, issues of welfare are often framed [with] African-Americans … assumed to be the beneficiaries of social support, when in reality far more whites receive federal and state support for poverty alleviation. In the area of international violence, terrorism has become nearly exclusively associated with Muslims, both in the Middle East and here in the states.
All of these media frames and our often unquestioned endorsement of them perpetuate racism. They lead people to think the observed differences they see are naturally occurring. Because of these frames, people can believe in the intellectual inferiority and superiority of differing groups, in the athletic abilities of another and in the artistic capacities of another. Rarely are these things questioned. An example I often use is that if tomorrow the Educational Testing Service came out with results that said white Americans outperformed all other ethnic groups, it would not result in an ounce of attention or scrutiny. However, if tomorrow the ETS presented results that said African-Americans outperformed all other ethnic groups in math and reading, there would be considerable uproar, because many of us have been taught the shape of racial inequality and will fight to maintain it.
Do you think economic factors perpetuate racial inequality?
Economics and race have always been tied. It's hard to understand racism without a fundamental understanding of how economics play into the inequalities of our lives. Contemporary wealth inequality is a perfect example. Demos recently published a report showing the average white family has $111,146 in wealth holdings, while the average black family had $7,113 and the average Latino family $8,348. These disparities are huge! They are not simply the function of some groups working harder than others — instead, they result from differences in the opportunity to accumulate wealth. The history of unequal home loans, access to higher education, as well as wage gaps, have allowed whites to gain advantages at the expense of other racial groups. However, contemporary racism often asks us to ignore the role of the past on the present, which turns a blind eye to the hands of inequality in the past and present.
In that case, do you think America is still suffering from slavery, and how so?
America is not a country that has forgotten about slavery — after all, you can stay at bed-and-breakfasts on "plantations," visit museums that discuss the wonder of the cotton gin and even attend Civil War re-enactments. However, America is a country that has failed to fully reckon with slavery. The unequal racial worlds that we live in today are tied back to the critical "peculiar institution" of slavery. The wealth accumulated on the backs of African people, the laws erected to separate races, and the resulting social ethos and material inequalities remain unrattled.
Last year, when Ta-Nehisi Coates wrote "The Case for Reparations" in The Atlantic, he was pointing to unequal practices that occurred since the end of slavery because he knew America would not deal with [its history of] slavery. While his piece was widely celebrated, people are scared to confront the Jim Crow South and the industrial North, so slavery remains unaddressed. Today, Americans are still scared to confront why they have accumulated [wealth] while others haven't, and if those differences in accumulation are tied to race. Instead many buy into the belief in meritocracy and desire their gain to be based on what they've accomplished. Unfortunately, our national history and present show that meritocracy was never the system that governed reward — here or abroad.
Is Southern culture perpetuating unequal practices or such thinking? For instance, the accused shooter, Dylann Storm Roof, in Charleston hadConfederate license plates on his car, and the Confederate flag is sometimes used as a symbol of post-Civil War white supremacy.
Southern culture in particular and American culture in general often casually perpetuate racism in the present, often by recrafting narratives of the past. The Confederate flag, which flies over South Carolina, was not a long-lived historical symbol — it was the symbol of a rebel force against the United States. The "heritage not hate" trope conveniently skips over the central issues of the Civil War, the position of black people who labored in the antebellum South, as well as the costs that the war had on the nation. Symbols like the Confederate flag are common among hate groups, but also are part of the state's image. The history of those symbols, along with the large number of schools and statues named for Confederate soldiers and even [Ku Klux] Klan members, create a hostile environment for those who understand the history of race in the nation, and those whose ancestors were painfully forced to labor under those flags during and after the end of slavery, and who had their lives terrorized by groups like the KKK.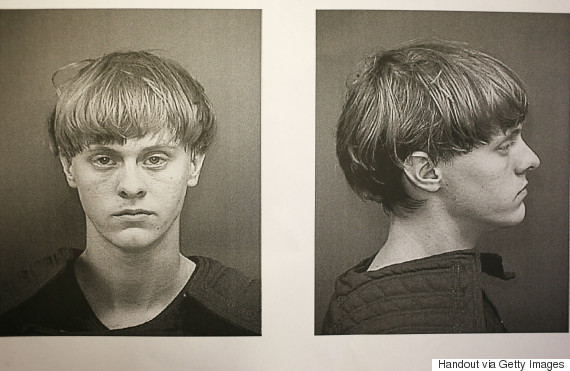 Dylann Storm Roof is seen in his booking photo after he was apprehended as the main suspect in the mass shooting at the Emanuel African Methodist Episcopal Church that killed nine people on June 18, 2015, in Charleston, South Carolina.
Were you surprised by Roof's age of 21? Why do you think a young white man from a young generation could be motivated to commit a racially motivated hate crime?
I was not surprised by Roof's age. Outspokenness of white supremacists may be on the decline, but white supremacist ideology exists in a range of ages. Hate groups often have events where children are socialized into racial hate. As well, the Internet has democratized access to white supremacist information. If I am a white high-schooler who feels he has been mistreated while racial minorities have been favored, I'm only a couple of clicks away from a myriad of sites and message boards where I'll find kinship with folks who are in legion of racial hatred or racial nationalism.
If the shooting in Charleston hadn't happened on the heels of many other high-profile race-related incidents — from Ferguson to Walter Scott — do you think the general public would have reacted in the same way, why or why not?

I think the shooting's timing was significant in that we are seeing a greater national concern about "Black Lives Matter." The visibility of police violence, particularly due to technology, has meant the American public is now more aware of the dangers that black people face on a daily basis. With that being said, a young man shooting into a church on a Wednesday night should raise ire and action. In the past, we've had church burnings, bombing and a host of other moments that make the nation pause and reflect on how far we have come in terms of race relations and how far from healed and whole we are.
Indeed, the shooting in Charleston eerily parallels the racially motivated 1963 Birmingham church bombing, in which four young girls were killed. Can you explain the long history of violent attacks on black churches and racism?
Understanding racism as a system means we must understand the ideologies associated with racism. In the contemporary U.S., colorblind racism demands people not outwardly display their hatred — instead those beliefs lie just beneath the surface. When the Civil Rights Acts were passed, they did not magically change the hearts or minds of racists. Instead, they made it unpopular to express such beliefs publicly and made certain activities illegal.
Today, the tensions that exist around race are rarely new. They're composed of xenophobia, a belief in the natural order of things and impending threats. Thus, in 1963 in Birmingham, we see a church attacked as black people fight to have the same rights as all Americans and in 2015, we see a church attacked because, [as Roof allegedly said,] "You are taking over the country." The fear of usurpation of power is central.
How can we overcome racism?
To overcome slavery and end racism we first have to reckon with their effects. Not simply pay lip service but look deeply at the wounds and unequal worlds created. This is not simply about a class divide. It has been, and still is, about the fictions around race that were created — the belief that black is inferior, that white is superior and that all others must earn their space in the American hierarchy is dangerous and must be dismantled. The path to overcoming can only happen once we go through it and make sure that people are not only held accountable in rhetoric, but also deeds. From lending institutions to learning institutions, racism continues to structurally and socially divide. The true solution to such a gargantuan task is to dismantle the social world as we know it. Importantly, that does not mean the end of this planet, it simply means the end of an unjustly created, defined and refined world. Until we can see that as a possibility, racism and slavery will continue to shape our daily lives.
~ This interview was conducted by Jacqueline Howard for The Huffington Post Science, where it originally appeared.