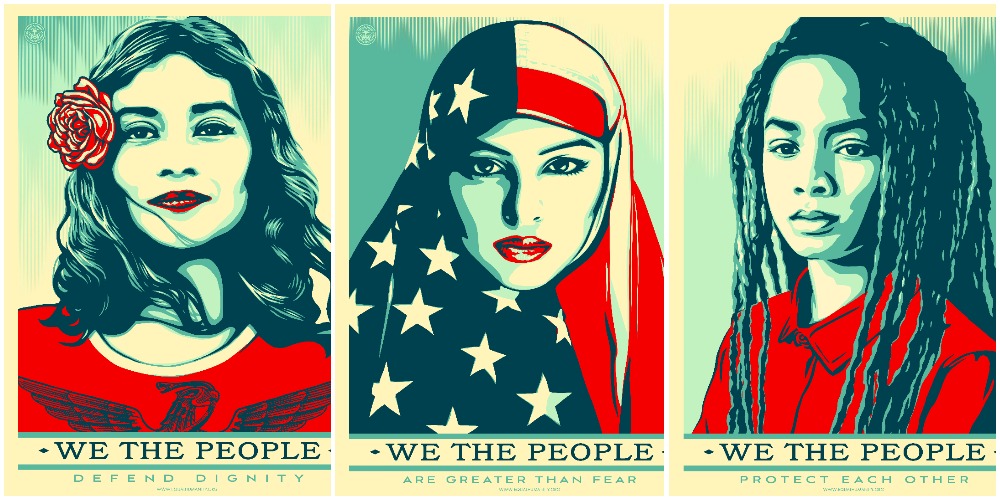 (Inauguration Protest Posters by Shepard Fairey, from here)
When my daughter and I joined the Women's March on Washington, DC, we joined with other women who are leading the resistance to the Trump regime. Reported to be the largest ever one-day march in the US, we were joined by an estimated two million people at sister marches around the world.
Being at the Women's March on Washington
Being at the Women's March was a chance to be part of history and to be inspired. Many people at the march were fired up about the fact that Trump is morally unfit for office. Holding signs like: "This pussy grabs back" and chants like our favorite: "We want a leader, not a creepy tweeter!" the women at the march proclaimed their resistance.
Actor Ashley Judd's impassioned delivery of a poem written by fellow Tennesseean Nina Donovan (19 years old) at the pre-march rally aimed to take back the "nasty woman" insult, insisting vaginas "ain't for grabbin'" and instead are for birthing the next generation of multicultural, multifaceted diverse human beings. The poem spoke of female empowerment, attacked transphobia, conversion therapy (aimed at LGBTQIA folks), and the abysmal 63 and 54 cents that Black and Hispanic women make compared to a "white man's privileged daughter." Right away it was evident to me on the ground that this march was going to be a progressive coalition and the beginning of a much broader resistance than just the outcome of the election,
While marching, I was struck again and again by the juxtaposition of what a sign said and who was carrying it.  A "Trust Women" sign for reproductive freedom, carried by a man; a "Black Lives Matter" sign, carried by a white woman; "Respect Women of Color" NOW sign, carried by a white man; "The Future is Brown and Female," also carried by a man; and "Channeling my Inner Shirley Chisholm," carried by a white woman. Chisholm ran for the Democratic party nomination for US President in 1972, and although she did not win it, she adopted the slogan "unbought and unbossed"—was a democratic role model that men and women of all backgrounds, races, religions, and sexual orientations.
(The author and her daughter at The Women's March)
When the crowd was finally permitted to march forward, I caught glimpse of a vast sea of signs and banners that was inspiring for both me and gave me hope for my daughter's future.
Intersectionality in Action
For me, The Women's March was also an opportunity to see intersectionality in action. Several of the visionary organizers of the March for Women –including Tamika Mallory, Carmen Perez, and Linda Sarsour  – spoke eloquently about harnessing the passion of the people who were there.  Rather than focus on calling out the 53% of white women who voted for Trump, or the white women who hadn't marched before, the organizers chose to "call people in" to the movement.
They called in the people who got on a bus, maybe for the first time and who had maybe never been politically active before, and asked them to stay awake now, to keep paying attention, and to keep speaking up about the issues that others have been fighting for for decades now, like police brutality and Islamophobia.
Linda Sarsour, in particular, who identifies as "unapologetically Muslim American, Palestinian American, and from Brooklyn, New York" passionately spoke that she was glad that people became recently incensed by Trump's call for a "Muslim registry"—and to these new allies, she affirmed, "I welcome you"—but also made clear, "the very things you have been outraged by, this has been our reality for the past 15 years."
Tamika Mallory reminded the crowd that this was not a concert or a party, and like Sarsour, welcomed new allies in this progressive movement by addressing those who "for the first time felt the pain that my people have felt since they were brought here with chains shackled on our legs, welcome to my world… This country has been hostile to its people for some time. For some of you, it is new. For some of us, it is not so new."
(Linda Sarsour, speaking at The Women's March, from here)
While some in the mainstream media tended to focus more on the speeches of white celebrities such as Gloria Steinem, Michael Moore, Ashley Judd, Madonna, and Scarlett Johansson, the reality on the ground at the march was that women of color played a prominent role. And, they always used their platform to highlight intersectionality.  Actor Janelle Monae led the crowd in chants of "Say Her Name," a call created by Kimberlé Crenshaw to remind us of the black women killed at the hands of police, like Tanisha Anderson, Sandra Bland, Rekia Boyd, Miriam Carey, Shelly Frey, Korryn Gaines, Natasha McKenna, Yvette Smith and so many others. Several of the mothers of black men (and boys) killed at the hands of police, such as Jordan Davis, Eric Garner, and Trayvon Martin, spoke to shout their babies' names aloud as well.
(Janelle Monae, speaking at The Women's March, from here)
One of the most powerful moments for me at the march happened when the crowd began to chant in unison: "Sophie Cruz."  Most people there had probably never heard before of Sophie Cruz, but once this brave and powerful 6-year old girl gave an empowering speech, first in English, and then repeated in Spanish, urging the crowd to work to "keep families together," urging children to "not be afraid," they would likely never forget her.  Echoing another young heroine, Cruz told the crowd she still believed that most people have "hearts full of love" so "let's keep together and fight for the rights!"
Standing for five hours of speeches in a packed crowd where one could barely move was uncomfortable at times, but well worth it for moments of inspiration like this one. Reflecting on these moments of inspiration gives me strength as the news from the Trump regimes unfolds with more terrible developments each day.
Women Continue to Lead the Resistance
(Activists in Portland, Oregon, protest President Trump's ban. Clinton Steeds/Reuters, from here)
As the first few days of Trump's presidency unfold with an onslaught of destructive Executive Orders, including the so-called "Muslim Ban," it it women who have been on the front lines of the protests against these atrocities. Michael Moore suggested that the Women's March never ended.
1 thing is crystal clear: Last wk's Women's March NEVER ended. It continued all wk, fr SaltLake 2 Atlanta. It has not ended.It will not end.

— Michael Moore (@MMFlint) January 29, 2017
Clearly, it's working. One Republican congressman complained that since the march, women have been "in my grill," asking about when his next town hall meeting would be, and "not to give positive input."  On the Democratic side, two women have been at the forefront of putting pressure on Sen. Schumer, staging protests outside his home that have helped him "find his spine" to stand up to the Trump regime. Rebecca Traister has a run down here of all the women opposing the regime, which has set off a flurry of speculation that opposition from women is Trump's Nightmare.
Sen. Kamala Harris's speech at the march connected "women's issues," to human rights issues, to the economy, to immigration. Native Americans formed a human chain as they drummed and marched, chanting what the crowds marching near them could not help but join in as it became contagious—"women are sacred" and "water is life." These are not just Native values, these are human values—or should be.
(Photo credit: Eileen O'Brien. Shepard Fairey poster)
Making these connections between disparate issues has never been more urgent.  it's important to deepen our understanding of "women's issues," particularly as whites become a demographic minority in the US. Census Data is quite clear that by 2020, a majority of the children in this country will be nonwhite, ushering in a majority multicultural future for the nation. As Joe's insightful post notes,Trump's cabinet is clearly assembled to preserve elite white male advantage. If women are to resist this power structure, then we will need to fully embrace the intersectionality  I saw on full display at the Women's March.
(Rep. Maxine Waters, speaking at The Women's March, from here)
As crowds chanted "this is what democracy looks like" and "this is what America looks like," Rep. Maxine Waters said that Trump's words, actions, and nominees tells us that "you don't respect us as women" and they are "dog whistles to white supremacists." With white supremacists like Bannon and Miller actively involved in drafting Executive Orders for Trump's signature, this not hyperbole.
As Alicia Garza observed, the march is a part of a larger effort at movement building:
"We can build a movement in the millions, across difference. We will need to build a movement across divides of class, race, gender, age, documentation, religion and disability. Building a movement requires reaching out beyond the people who agree with you."
When I attended The Women's March, I'm grateful I got to be a part of this.
~ Eileen O'Brien is Associate Professor of Sociology and Assistant Chair of the Department of Social Sciences at St.Leo University. She is the author of several books, including Whites Confront Racism (Rowman & Littlefield, 2001).