With her out-sized trans* visibility, retrograde politics, and gender performance, it is difficult for many cisgender white feminists to make sense of Caitlyn Jenner.
(Aside: This is probably where I should disclose that I am white, sometimes identify as a feminist, and am cisgender. I also identify as lesbian, queer and femme and have a long-term partner who is GNC. I come at this critique and all my work through a lens that places critical race theory at the beginning of the analysis. This post follows on a recent one about Caitlyn Jenner, which is part of If on-going series I write called The Trouble with White Feminism, you might want to check it out.) 
In June, 2015 journalist and film producer, Elinor Burkett publishedher response to Jenner's announcement of her gender transition, "What Makes a Woman?" in the New York Times. The piece caused an uproar. In it, Burkett confided that she, and "many women I know," "speak privately about how insulting we find the language trans activists use to explain themselves." In Burkett's view, the rhetoric of transitioning from one gender to another does not give enough heed to the social construction of gender, but relies on a kind of biological determinism. To make this argument, she relied on an analogy with race:
The "I was born in the wrong body" rhetoric favored by other trans people doesn't work any better and is just as offensive, reducing us to our collective breasts and vaginas. Imagine the reaction if a young white man suddenly declared that he was trapped in the wrong body and, after using chemicals to change his skin pigmentation and crocheting his hair into twists, expected to be embraced by the black community.
Burkett's objection seems to be that even though gender is not reducible to mere biology (breasts and vaginas), it is also not so easily changed. It is curious that she reaches to an analogy with race here. Curious because race is mentioned nowhere else in her piece, and race doesn't seem to be a pressing concern for Burkett except as it is useful to make the real point she wants to drive home here, which is about gender. What Burkett's analogy between gender and race reveals is Burkett's lack of understanding of how race affects her, and how it is interwoven with gender. Burkett is a cisgender woman, not only a woman, she is also white. Her whiteness influences her perspective as much as her gender and her feminism, but it is little examined here. Her faulty reasoning-by-analogy is especially ironic in hindsight, as it was a short week later that Rachel Dolezal emerged as someone who had done just what Burkett set out as preposterous.
Burkett mis-genders Jenner throughout the piece (calling her "him" "Mr." and "Bruce" throughout) – a practice trans* activists have dubbed deadnaming.  In Burkett's view, the primary offense of Caitlyn Jenner was an insufficiently feminist approach to the performance of gender, she ends the piece upbraiding Jenner for a fond reference to nail polish, saying "Nail polish does not a woman make."
Burkett's is a nasty response, but not an unfamiliar one. For US-based, second wave, cisgender, straight white feminists, like Burkett or like Betty Friedan and Gloria Steinem, femininity was key part of what they were struggling against. For cisgender, straight, white women who came of age at the height of Playboy culture, rejecting the trappings of (heterosexual) femininity was a crucial form of resistance.
A Bunny's Tale,  Gloria Steinem's indictment from within a bunny suit of the Playboy culture and that particular form of femininity, was a touchstone for many feminists of that generation. What the cisgender white feminists tend to miss is that this form of femininity was not available to all women. This is not to diminish how oppressive some women find make-up and high heels, but this is not a universal experience. Julia Serrano, who identifies as trans*, argues that femininity has been scapegoated and should be reclaimed and celebrated. But hers is an unusual voice among white feminists. Many more agree with Burkett.
Even acclaimed scholar Anne Fausto-Sterling found herself agreeing with Burkett's critique of femininity:
"I do not identify with the culturally feminine. I don't wear make-up or high heels or dresses. I have always viewed the dominant presentation of the feminine woman–as someone physically weak, dependent and physically impeded by tight clothing and high heels–as disempowering…"
Fausto-Sterling then posted a series of disastrous Tweets, and sought to correct them through a longer blog post. In that post, Fausto-Sterling says:
The visual pin-up-girl presentation of the ultra-feminine Caitlyn Jenner in the pages of Vanity Fair did not fill my heart with joy. After my fateful tweets some of my correspondents directed me to Julia Serrano's defense of femininity and I am struggling both to understand her position and to decide whether I agree with it or whether it is possible to embrace parts of it.
This is a common mistake of a white feminism. It wants to herald "all women" as sharing some universal experiences that should unify us all. It's what was behind that hashtag, #YesAllWomen.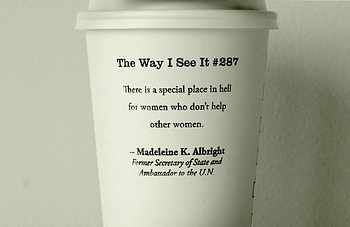 This is the kind of faulty logic that is behind Madeleine Albright's quip, "There is a special place reserved in hell for women that do not help other women." While she was recently made to apologize for the remark when she said it at a rally for Hillary Clinton, in years past it was a favorite line of hers and even printed on Starbucks coffee cups. But, what does the category 'woman' mean when cisgender, straight, white feminists use it?
As the posts and graphics in support of International Women's Day floated through my social media timelines earlier this week, I wondered who they meant. Certainly not me. As someone who identifies as queer and lesbian, the category 'woman' as most people use the term, barely adheres to me. French feminist theorist Monique Wittig wrote:
"for 'woman' has meaning only in heterosexual systems of thought and heterosexual economic systems. Lesbians are not women."
Wittig was writing at the peak of radical lesbian feminism and her words may seem shocking today, but they still resonate for me. The category woman as many cisgender feminists mean it, is not one that resonates for me. I am far removed – by my own design – from the dangers inherent in heterosexual systems (e.g., violence against women, unintended pregnancy, the need for abortion). I certainly stand in solidarity with those who live within that system, but it's not my life. I am not a 'woman' in that way.
I also identify as a queer femme, so the kinds of insults hurled at Caitlyn Jenner for her performance of femininity could have just as easily been thrown at me. And yet, I am a cis white woman, which carries all kinds of privilege with it. This, too, troubles the simplistic category of 'woman' used by cisgender white feminists like Burkett.
Lesli-Ann Lewis, writing at Ebony, explains this disconnect she experiences reading Burkett:
Burkett's White cis middle class womanhood looks nothing like my Black poor cis womanhood, and that her issues are not my issues. I don't know what it's like to be in a meeting and have my breasts discussed because I'm not invited to those meetings. With natural hair and a state college education, I'm not let in to make those $0.75 to a man's dollar. Most Black women do not. She discusses periods and birth control as defining difficulties of womanhood, but the women I know have found their womanhood rooted in deeper, more communal issues. Becoming a Black woman in America means worrying for yourself and your loved ones when they go out, for fear of police.
Understanding police violence as every bit as foundational to womanhood is beyond the scope of conventional formulations of cisgender white feminism. Instead, cisgender white feminists insist on critiquing trans* women for their expression of femininity.
When Allure magazine ran a stunning, mostly nude photo of Laverne Cox, cis white feminist Megan Murphy lost it.
Murphy called Cox's photo a "cartoonish version" of what a woman looks like, "like any other objectified female body, sculpted by surgery and enhanced by Photoshop." Murphy, like Burkett, critiques a trans* woman's expression of femininity as part of that oppressive system of representation that (some) feminists want to break free from. But such a critique misses more than it offers. Here is Lesli-Ann Lewis again:
Critiquing marginalized women for embracing femininity is tone deaf as it ignores our history of being denied femininity.
Lewis is on point here. The critique of femininity by cis white feminists assumes that everyone – all women – have had femininity thrust upon them, that it has oppressed universally. But some of us have been denied femininity, or had it twisted and turned against us.
Cis white feminists critiquing the femininity of trans* women of color such as Laverne Cox are displaying a kind of ignorance that is fostered by whiteness. Accustomed to taking their experience as women, without regard to race (or class), and then universalizing that to all women, they call for a feminism that shores up whiteness. It's a feminism I want no part of. I'll be standing with the trans* queer and gender-non-conforming folks of all races who want to get free. Some of us will be wearing nail polish.