As 2015 comes to a close, this is my take on the most important trends and events of the last year in the ongoing struggle against racism.

Black Lives Matter
What started as a hashtag #BlackLivesMatter in 2014, created by three Black, queer-identified women Patrisse Cullors, Alicia Garza and Opal Tometi, has grown into a full-fledged social movement in 2015. The movement not only shows no signs of going away, it's become a political force to be reckoned with.  Here, Shantel Buggs and Noel Cazenave wrote about the problems with the white counter-narrative of "all lives matter," and Lessie Branchhttp://www.racismreview.com/blog/2015/09/06/elisabeth-hasselbeck-fox-and-hate-grouplabels/ wrote about the call from conservative media to have Black Lives Mattered declared a "hate group."
 Racism on College Campus
In March of this year, members of a fraternity at the University of Oklahoma were captured on video singing a racist chant. The fraternity was eventually closed and two of the young men in the video were expelled from OU. Here, Edna Chun wrote about the lower salaries for faculty of color.
In the fall of this year, we witnessed the spread of the movement to college campuses. At the vanguard of this movement were the students at the University of Missouri, who galvanized their campus over the fall semester, ultimately leading to the ouster of the chancellor and a dean. Similar protests emerged at campuses across the U.S., including at Ithaca College, Smith College, Claremont McKenna College, and Yale University. At the University of Missouri, the tipping point of the protests seemed to be when the football team got involved and said they would refuse to play until the chancellor stepped down (he resigned a short time later).
Here, Darron Smith wrote about the long tradition of black athletes and social protest.  Eduardo Bonilla-Silva wrote a short piece about the "racial innocence game" that is used by whites to defend against charges of systemic racism on campuses.
Police Brutality & Murder
(image from The Counted, The Guardian)
Much of the social unrest in 2015 was driven by the systematic police brutality and murder of black people, particularly young, black men. The U.S. government does not collect data on murder by police, so it is left to journalists and activists and data scientists to do this important work, through projects like The Counted from The Guardian and Mapping Police Violence,
The situation of police violence in the U.S. is so egregiously in violation of international human rights standards, that in 2015 the United Nations made dozens of recommendations for eliminating racial discrimination and tackling excessive use of police force, including the creation of an independent commission to prosecute racially motivated crimes (which the U.S. declined to do).
Here, I wrote about why grand juries fail to indict officers, the fact that police-involved killings continue with no end in sight and police continue to get rewarded for killing citizens and what no one will say when a cop gets killed.
Terrorism, Islamophobia & White Supremacy
Terrorist attacks in Paris – in February and then again in November – led the headlines of global mainstream media outlets and fueled Islamophobia here in the U.S. The response to the attacks in February, in which many rallied around the slogan 'Je Suis Charlie' (for the magazine, Charlie Hebdo, that was targeted) drew a good deal of criticism. Here, Raul Perez and Sean Elias both offered critical takes on the whiteness of the Je Suis Charlie marches, as well as the racism of the Charlie Hebdo magazine.
Muslims of all nationalities are racialized in the U.S. lens, as Saher Selod explained here. This form of racism had deadly consequences for three Muslim Americans in , Deah Shaddy Barakat, Yusor Mohammad Abu-Salha and Razan Mohammad Abu-Salha, were shot and killed in Chapel Hill, North Carolina.
As the Syrian refugee crisis worsened, the racialization of Muslims did as well, as Dr. Terence Fitzgerald explained here.
Overall in the U.S. and beyond, there was a reluctance by government officials and reporters to call any acts of violence "terrorism" that involved white men (yes, they've all been men) doing the violence. I wrote about this reluctance to name white terrorism in the shooting at Planned Parenthood in Colorado Spring and the deep roots in white supremacy of such acts, back in November.
Mass Murder, African American Church Arsons
Perhaps the most shocking act of white terrorism in 2015 was the murder of nine people during a Bible study. The Charleston shooting victims – Cynthia Hurd, 54; Susie Jackson, 87; Ethel Lance, 70; DePayne Middleton Doctor, 49; Clementa Pinckney, 41; Tywanza Sanders, 26; Daniel Simmons Sr., 74; Sharonda Coleman-Singleton, 45; and Myra Thompson, 59 – are a painful reminder that the violence of white supremacy costs lives.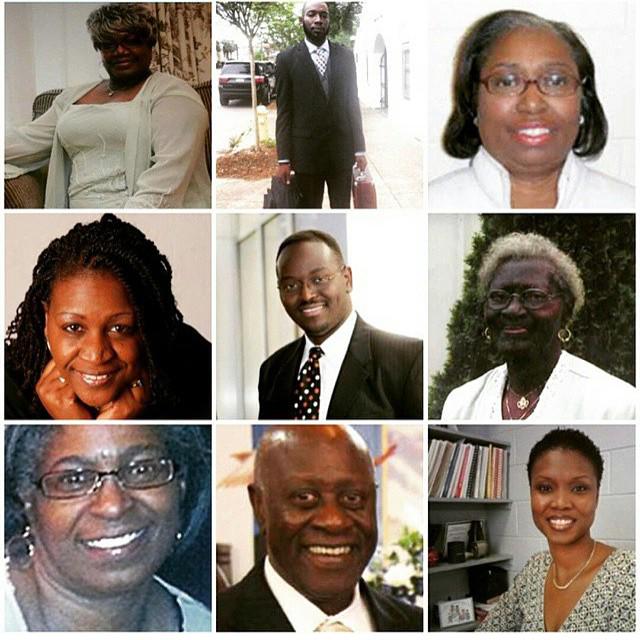 Here, Sophie Bjork-James wrote about the shooter's involvement on the Internet prior to the attack, Terence Fitzgerald asked important questions about the denial of truths in South Carolina, and I asked why is it always a white guy, and made the connection to other acts of white supremacist violence, like the bombing of the Oklahoma City federal building. President Obama looked for grace amidst the terrible carnage.
In the days following that attack, there were a string of arsons at African American churches.
Racism & Presidential Politics
As our first black president winds down his second term, Kimberley Ducey wrote about the persistent and pervasive racism that Obama faces. I wondered about racial justice after Obama. While his presidency has broken an important symbolic barrier, his policies have done little to address systemic racism in the U.S., and his use of drones for killing of those deemed terrorist threats is arguably one of the biggest drivers of global terrorism.
José Cobas has looked at how several of the candidates have responded to the issues and concerns of Latino/a voters, including Jeb Bush and Donald Trump. Trump seems to intent on creating his own cottage industry of anti-Latino racism, and anti-Latino racism has very real consequences for housing, as Maria Chavez explained.  Cobas has also written about the bumbling mainstream media attempts at reporting on Latino/a issues and a failed attempt by NBC to meet with Latino leaders.
Cara Canelmo wrote about the appeal of Ben Carson, and I critiqued Hillary Clinton as good for white feminism but bad for racial justice at the launch of her presidential campaign in April.
Complicated Role of Social Media
There's much to say about the complicated role of social media and racism. Whether you want to argue that social media is driving liberation movements like black lives matter or that trolls and racist commenters, and white supremacists find a resurgent purpose online, you are both right and wrong. The reality is somewhere in the messy middle of these two.
In writing about social media and racism here, Kishonna Gray wrote about the systematically embedded discrimination that black gamers involved in Microsoft's Xbox experience.
Shantel Buggs wrote about the importance of race in online dating – and the fact that any discussion of it is missing in on the most popular sociological titles of the year, Modern Romance.
In Germany, the government reached an agreement with Facebook, Twitter and Google to remove hate speech online within 24 hours. When I called for similar response to hate speech online here in the U.S., it still gets pretty widely regarded as outlandish.
Barring the possibility of government action, the usefulness of posting racist videos and emails online for public view and as a strategy for disrupting white-only backstage racism is a source of some hope. Of course, this hope is tempered by the fact that many whites refuse to be shamed by such public disclosures.
MILESTONES IN 2015
As always, there were milestones this year – remarkable people and events that were commemorated.
As Sean Elias wrote in this salute, the still living and quite remarkable Rep. John Conyers was honored for his activism in the civil rights movement and his distinguished career in the U.S. Congress.
In March, President Obama and thousands of others marked the 50th anniversary of the march at Selma in 1965.
And, April 21 marked the 50th anniversary of the death of Pedro Albizu Campos, a leader of the struggle to free Puerto Rico from US colonial rule.
This year also marked the 50th anniversary of the Moynihan Report, a racist, poverty-shaming report, Susan Greenbaum called it.  Stephen Steinberg offered an in-depth analysis of the research behind the report and what got left out.
April also marked the 23rd anniversary of the LA Riots, which many linked to the uprising in Baltimore.
This year we were also gifted by some amazing art, writing, and creative projects in the struggle against racism.  Art, as Edna Chun points out, can be part of the healing process.
AWARD-WINNING REPORTING ON SCHOOL SEGREGRATION:
One of my favorite pieces of work this year was the reporting of Nikole Hannah-Jones on school segregation now.  In addition to the magazine reporting she also collaborated with This American Life for a podcast series on the same topic.  If you haven't listened to it, stop what you're doing and go listen to it now. It's so good – and so terrible.
DOCUMENTARY FILMS I WATCHED:
As per usual for me, I watched a ton of documentaries this year, and several of them are relevant for folks reading here and interested in racism. Stanley Nelson's Panthers: Vanguards of the Revolution, is excellent, if a bit skewed to favor the men in the party. It would make a wonderful teaching companion to Alondra Nelson's terrific book, Body and Soul: The Black Panther Party and the Fight against Medical Discrimination (University of Minnesota Press, 2013).
The Seven-Five, is ostensibly a documentary about police corruption in the NYPD, but my resistive read of the film is that it is all about a particular kind of white masculinity and the homoerotic bond between cops.
I also really appreciated, if not quite enjoyed, What Happened Miss Simone? as a kind of exploration of the madness that racism and sexism create when it crushes the spirit of a genius.
BOOKS I READ IN 2015 THAT STILL HAVE ME THINKING:
I read a lot this year, too, and several books have stayed with me:
Ta-Nahesi Coates seems to be everywhere this year and his Between the World and Me has received well-deserved praise. That said, I don't think Coates is the next Baldwin (apologies to Professor Morrison), but that's a subject for another time.  I was really affected by Claudia Rankine's, Citizen: an American lyric, for the way it plays with form, it rests somewhere between prose and poetry.
For academic sociology books on racism, I found Paula Ioanide, The Emotional Politics of Racism: How Feelings Trump Facts in the Era of Colorblindness, to be a timely intervention into the current political landscape. The subtitle "how feelings trump facts" is not intended to be a play on the leading republican candidate, but it could very well be.
THANKS TO ALL OUR AUTHORS, COMMENTERS, READERS & SUBSCRIBERS
Standing with you in struggle.