The statue of Cecil Rhodes was removed after 81 years. A few days later, a statue of Mohandes Gandhi was vandalized. What can these two events tell us?
It was Rhodes who funded the racist establishment of white minority rule in the South African region. When I read that the statue of Cecil Rhodes had been removed from its plinth at the University of Cape Town after being smeared with shit, I recalled the TV miniseries (1996) that captured the life and legend of the establishment man. I saw each glamorized episode of the mini-series on PBS; I cannot remember the fine details now.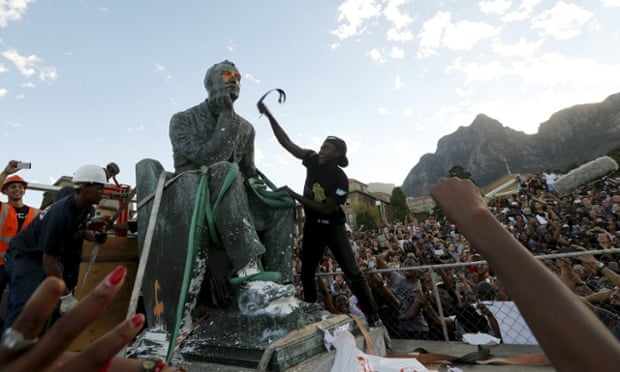 (Image credit: Mike Hutchings/Reuters via The Guardian)
Four days after Rhodes's statue was removed, Gandhi's statue in Johannesburg was also vandalized. Gandhi is "the hero of anti-colonial rule"; the role model for Martin Luther King Jr. and Nelson Mandela. But the vandalism of Gandhi's statue has unveiled again uncomfortable truths about Mahatma. I saw the gripping movie about his life starring Ben Kingsley on the big screen; I cannot remember the details now.
The wikipedia version of the Gandhi legend acknowledges that he shared racist views "prevalent of the times and that his experiences in jail sensitized him to the plight of South Africa's indigenous peoples." So, Gandhi's racist views in his early years and segregationist ideas when he was in South Africa are not in dispute. The Encyclopedia Britannica says this about Gandhi's sojourn in South Africa: "What he did to South Africa was indeed less important than what South Africa did to him."
In 1993, at the unveiling of the Gandhi statue, Mandela gave a speech praising Gandhi. Mandela reportedly said: "This event is also very significant because we are unveiling here the very first statue of an anti-colonial figure and a hero of millions of people worldwide. Gandhiji influenced the activities of liberation movements."
Cecil Rhodes was perhaps 40 years old when Gandhi, aged 24, arrived in Natal. By then Cecil Rhodes was a very wealthy man, well on his way to becoming the establishment man for minority rule in the region. The racist superstructure of British and Afrikaner colonial rule was under construction. This was the superstructure of racism that erected Apartheid.
The official legacy of Gandhi is the struggle for freedom. But I am nonplussed by the meaning of the vandalism of Gandhi's statue. Is it all forgiven, the virulent racist writings of the young Gandhi? Or does it even matter anymore?